Gratis film av Oslo Spirituelle Filmklubb søndag 29.12.2019 kl 19.30
Kanyini
Søndag 29.12 kl 19:30 har vi gratis visning av filmen Kanyini i InspiraHuset.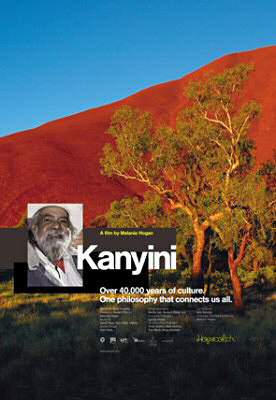 Adresse:
Guvernørens vei 5/5a, 0284 OSLO.
InspiraHuset har inngang fra Ørakerveien, en stille, smal gate uten parkering. Man kan parkere i Guvernørens vei eller andre nabogater, eventuelt mot betaling på Lilleaker senter (200m) eller CC-Vest (400m).
Vi anbefaler offentlig kommunikasjon. Buss og trikk til Lilleaker (ca 150-200m), T-bane til Bjørnsletta (ca 600m). Tog/Flytoget/Busser til Lysaker (ca 1km)
Om filmen:
Filmen lar oss følge Bob Randall fra Australia, "onkel Bob", en 'Aboriginal elder' fra Yankunytjatjara-folket, som er tradisjonelle eiere av Uluru-fjellet (Ayers Rock).
Han hadde utnevnelsen tjilpi (en spesiell lærer-onkel) blant sitt folk, og var listet ved navn som en av forvalterne av Uluru, før han vendte tilbake til drømmetiden i 2015.
Han skrev 4 bøker, mange artikler, og komponerte og spilte inn sanger. Han mottok i 1999 prisen Indigenous Person of the Year for sitt arbeid for å bevare aboriginsk kultur og like rettigheter for alle som lever, og ble i 2004 oppnevnt i Indigenous Music Hall of Fame for sin musikk.
OM INNLEDNING, OG "UTLEDNING" (ETTER FILMEN)
Ann Kristin Ulrichsen, kunstner fra Sjøholmen Kunst og Kulturhus i Sandvika og eventyrer på fritiden, deler fra sine eventyr i Australia med film, allsang og egne malerier med ord fra urfolkets historie. Ann Kristin forteller om sin forbindelse med filmen og onkel Bob.
Ann Kristin viser to av sine egne malerier (på stor skjerm) fra tiden i Australia med onkel Bobs stemme til. Bilde 1: Red Sun – leser Uncle Bobs Red Sun, Black moon sangtekst (4 minutter).
Bilde 2: Walking out of Uluru. Onkel Bobs stemme (2 minutter).
Uncle Bob Randall synger My brown skin baby taken away (5 minutter).
Avslutning: Kanyini-sang https://kevinjames.bandcamp.com/track/kanyini-3
Det vil være mulig å synge med og evt spille instrument.
Vi fanger sangen og drømmene til Uncle Bob inn i drømmefangeren.